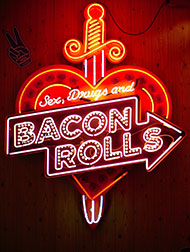 For Food Lovers
An unforgettable romp through Soho's alleys, discovering her best kept secrets, her rock n' roll landmarks, and seedy stories from London's past.
Throughout this 2.5 hour evening cocktail tour, you'll discover the club where the world heard Keith and Mick for the first time. You'll see where Sir Elton cut his best album. You'll return to the days when London's sex shop mogul, Paul Raymond, was not only "the King of Soho", but also the wealthiest man in Britain.
And of course, your host will educate and entertain you with stories about London's wild nightlife, then and now, while guiding you on a stroll to three of Soho's coolest cocktail bars to ensure that everyone remains in very high spirits.
Maison Bertaux have been delighting the discerning clientel of Soho with their cakes since 1871, so they must be doing something right! Just a stones through from Hazlitt's, you'll thank us for this tip...even if your waistline won't