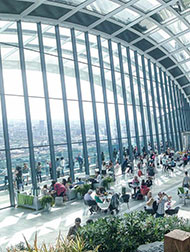 Tots & Teens
The Museum's All Aboard playzone is perfect for younger visitors aged 0-7.
Children can enjoy an interactive fleet of mini vehicles, drive a real bus, repair a mini Tube train with toy spanners, work in the 'Lost Property Office' and dress up in uniforms to become a mechanic, riverboat captain, station announcer or driver.
With Japanese, Chinese, Thai & Korean cuisine, there's something on the menu for even the fussiest of teenagers.
Interactive projections on your table surface enable you to set the mood, discover the local neighbourhood, and entertain you with retro games, live chef-cam feed, and even graffiti your table top. Marvellous fun for mums & dads as well as kids!
Pluck out remnants of centuries past on the banks of the Thames. 'Mudlarking' is the act of searching the riverbed for these historical treasures. Mudlarks comb the Thames foreshore, which is only accessible for a few hours a day at low tide, in their hunt for objects, untouched since they were lost hundreds or even thousands of years ago. Each artefact, whether ordinary or extraordinary, tells us something unique about London's history. Great fun, for older and younger kids.
With undoubtedly the most incredible views of London, The Sky Garden is London's highest public garden, with 360º views over the capital. Guaranteed to impress even the most notoriously difficult to please teen. Entry is free but booking is essential.