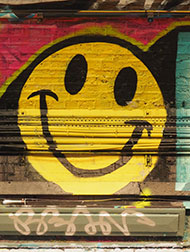 For Instagrammers
The Gallery at Sketch | @sketchlondon
The Gallery, designed by French architect India Mahdavi, boasts 91 art works by British artist David Shrigley. It's the perfect backdrop for your afternoon tea shots - though a bathroom selfie is an absolute must too!
Peggy Porschen | @peggyporschenofficial
The exterior floral arrangements are as good a reason to visit as the incredible cakes.
God's Own Junkyard | @godsownjunkyard
Neon artist Chris Bracey's personal creations, from vintage signage to custom-made orders used in Hollywood blockbusters, has to be seen to be believed.
Any trip to London is incomplete without a wander round Covent Garden food and shopping emporium. From the stunning architectural features to the regularly changing interior displays — ranging from clusters of balloons to floral arrangements — you'll be spoilt for choice for images for your grid.
With independent shops, galleries, delis, vintage clothes shops, lifestyle and antique stores, not to mention the famous Flower Market there are plenty of reasons to add Columbia Road to your Instagram feed. Get there early to catch the market at it's most exciting.
This colourful corner of Covent Garden is undoubtedly one of London's prettiest streets. There are independent shops galore, and plenty of choices for grabbing a quick bite to eat, or a more leisurely meal.