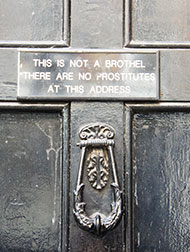 History & Heritage
In a single street in London, separated by a wall, are the homes of two of history's most significant musical artists.
25 Brook Street is the house that belonged to George Frideric Handel and the place where he composed some of the world's most enduring baroque music, including Messiah.
On the top floor of 23 Brook Street is the flat where, two centuries later, Jimi Hendrix lived with his girlfriend, record player and guitar. Both were the homes of musical innovators who chose London and changed music. See them together under one roof at Handel & Hendrix in London.
The collection of Sir Henry Wellcome are varied, fascinating, and occasionally macabre. Billed as the Museum for the incurably curious.
Sordid Soho Tour with Katie from Look Up London
In recent years there's been a clear effort to 'clean up' Soho. But don't you worry, there's still plenty of sordid and saucy history to explore.
Soho has always been a place to let loose and dabble in the dangerous. You'll be meeting characters who shaped its identity, looking out for history hiding above our eyeline and revelling in the naughtiness of its past.
Explore the narrow winding streets around Hazlitt's to discover things you've never noticed and stories you won't forget!
Please be aware the tour features stories including sex, drugs and swearing (not from Katie – just true quotes!) You have been warned…